Medical Appointment Transportation
Transportation is provided to and from VA Medical Facilities in Wade Park (WP), Parma, and the VA Outpatient Clinic in Sheffield Village. Availability is on a first-come, first-serve basis. A morning shuttle is available to Wade Park & Parma. Home pick-ups are provided for appointments at the VA Outpatient Clinic in Sheffield Village. Wheelchair-accessible transportation is available.
Wade Park & Parma Schedule*
| | |
| --- | --- |
| Departs LCVSO | 7:15 a.m.(1) |
| Departs JFS | 7:30 a.m.(1) |
| Departs Valor Home | 7:45 a.m.(1) |
| Departs Elyria | 8:00 a.m.(1) |
| Arrives W/P | 9:15 a.m.(2) |
| Departs W/P | 3:00 p.m.(3) |
| Arrives LCVSO | 4:30 p.m.(3) |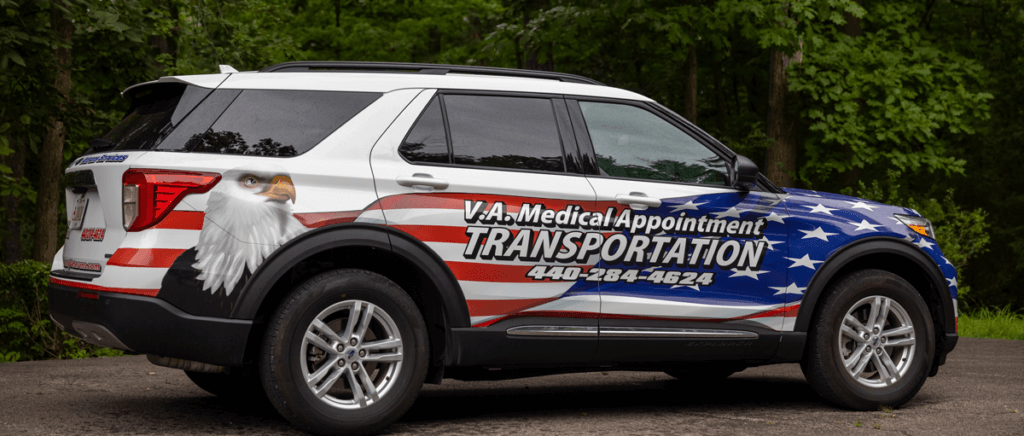 *Shuttle times are not exact and depend on pick-up/drop-off of scheduled passengers. Shuttle may leave early or late. Please allow 20-30 minute lead time for multiple stops.
1May depart earlier if all scheduled passengers are present
2Approximate time, add 20-30 minutes if shuttle goes to Parma
3May depart/arrive earlier if all passengers are done with their appointments

Pick-Up & Drop-Off Locations
All passengers must be ambulatory and able to get in and out of the van with the limited assistance of the driver.
A caregiver, for the purpose of providing aid and attendance to the veteran, will be permitted to ride in the van with the veteran. Need for a caregiver must be authorized by the VA. Notice must be given at the time of reservation.
Veterans must be ready to leave at the time scheduled for pick-up, the driver will not wait.
Cancellations must be reported as soon as possible. 48 hours is preferred. 2 NO SHOWS, without calling this office will result in a 6-month suspension.
Smoking, eating, and drinking are prohibited in a county vehicle.
Passengers should not engage in any activity that would distract the driver from his duties.
State law and county policy require all passengers without medical exemption must wear seatbelts any time the van is in motion.
Please do not leave trash inside the van.
The driver will not make any nonscheduled stops.
The driver may refuse transportation to anyone he feels may cause disruptions in safe transportation.
As a courtesy to others, passengers must maintain personal hygiene.
TO SCHEDULE A RIDE CALL:
(440) 284-4624
Howard Hixon, U.S. Marine Corps
Transportation Coordinator