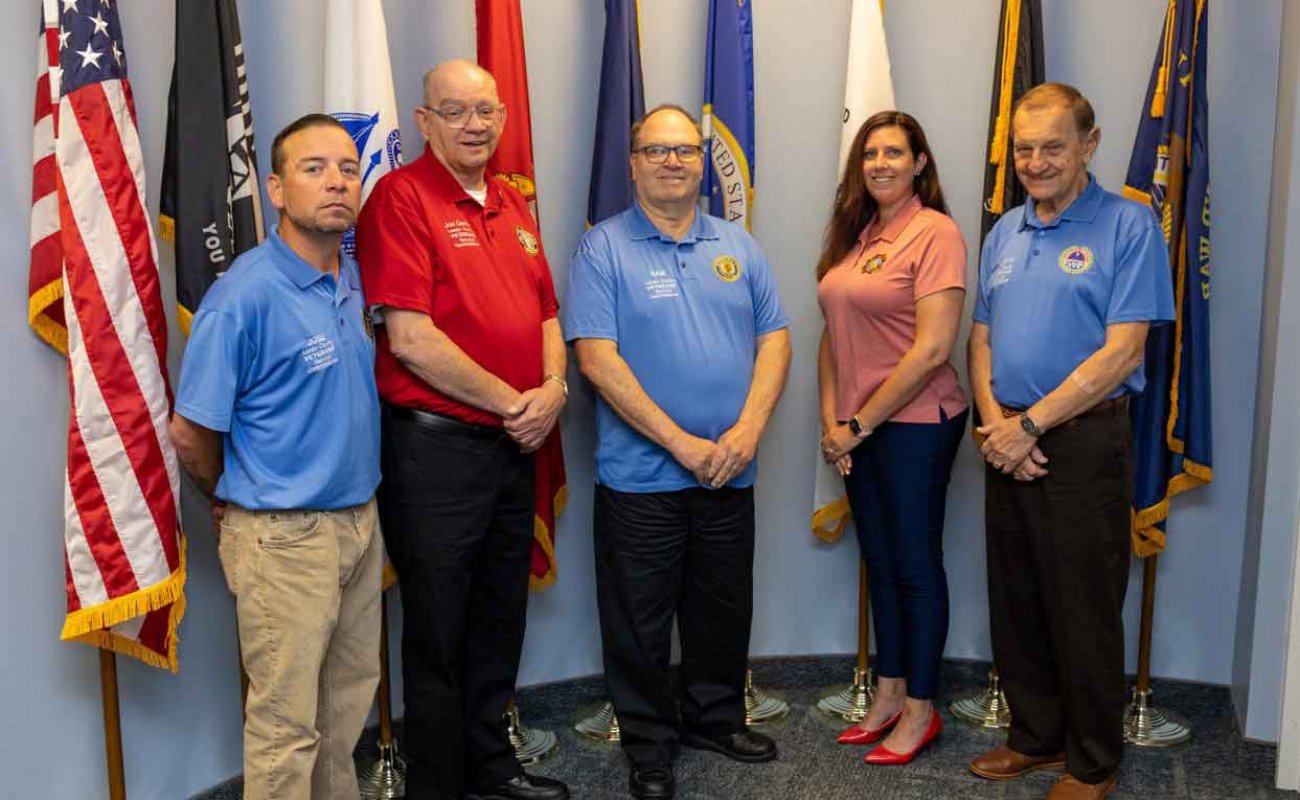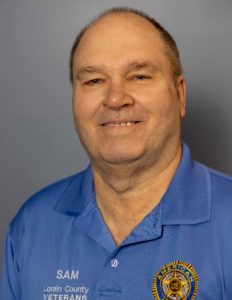 President, Commissioner
Appointed 2018
Current Term 2020-2025
Samuel "Sam" Wolfe has been a resident of Lorain County for almost 30 years. After graduating from High School in 1971, Sam enlisted in the United States Air Force (1971-75) as a cook and rose to the rank of Sgt. After his time in the USAF, Sam knew he had found his life's calling would center around the culinary arts and helping people.
Building on what he learned in the Air Force, Sam started working for Mercy Hospital in their dietary section, preparing meals for the hospital's patients. After moving to Lorain in 1991 for a better employment opportunity, Sam was hired by Elyria Hospital as the Chef and Food Service coordinator. He was responsible for ordering and supervised all food served during his time there from 1995 until his retirement in 2018.
Throughout his life, Sam has used his spare time to make the communities he has lived in a better place. Sam has been doing this for years, primarily by using his culinary skills to prepare meals for different veteran groups and other community organizations. Sam, who is as comfortable cooking in the kitchen as he is over a campfire, has used his skills as a Boy Scout Leader for 14 years. Today the idea of service and cooking continues. Sam can be found multiple times a month making meals at his American Legion post serving Lorain County veterans.
Sam lives in Elyria and enjoys hiking and playing golf.
Organizational involvement and awards:
American Legion Post 12- past Commander, Trustee, and Mess Sgt.
40 & 8 Chef de Gare
American Legion Lorain County Commander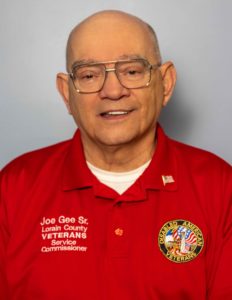 Vice President, Commissioner
Appointed 2019
Current Term 2022-2026
Joe Gee has been a resident of Lorain County for over fifty years and is a long-time advocate for veterans. That sense of duty began at a very young age while a student at Vermilion High School in 1967, and during the height of the Vietnam War, Joe decided to enlist in the United States Marine Corps as Radioman. After completing his basic training, he was assigned to the 3rd Battalion 4th Marines and was deployed to Vietnam (68-69).
After his service to the country, he decided to come home to Lorain County and worked 31 years for Ford Motor Company retiring in 2002, currently on the UAW Local 2000 Retirees Executive Board. The dedication to service that he learned while in the U.S.M.C. has informed the rest of his life. This dedication can be seen through his continued commitment to the veterans of Lorain County through his active participation in various organizations.
He resides with his wife Rosa in Sheffield Lake. Joe and Rosa have 8 Children and 18 grandchildren.
Organizational involvment and Awards:
Lorain County UAW CAP Veterans Committee Chairman
AMVETS Post 32 Honor Guard Commander of the Rifle Squad
Life Member of DAV Chapter 49
Life Member of VFW Post 8686
Member of American Legion (Ohio)
VFW 8686 Adjutant, Service Officer & Judge Advocate: since 2011
Head Mentor coordinator Lorain County Veterans Treatment Court since March 2016
Advisory Board Member for Lorain County Transitional Housing for Veterans (Valor Home) since before its opening.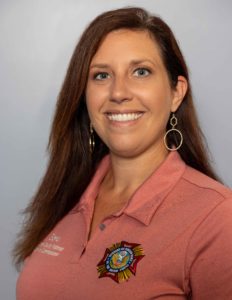 Secretary, Commissioner
Appointed 2016
Current Term 2021-2026 (2nd term)
MSGT Sara (Nemec) Markle, has called Lorain County her home her entire life. After graduating from Marion L Steele High school in 2000, Sara joined the U.S. Air Force National Guard, where she became a Health Services Management Specialist (4A071). She recently retired from the 178th Wing in Springfield, Ohio as of May 31, 2020 having served 20 years and 21 days. Sara comes from an Air Force family. Her father Joseph Nemec, is a retired MSGT from the 121st Air Refueling Wing, and her sister Stefani Ellsworth, is currently a Major serving in the USAF.
Sara became actively involved in the North Ridgeville Community shortly after starting her job at the Fifth Third Bank in North Ridgeville where she is currently the Financial Center Manager. Sara has 15 years of banking and finance experience and she uses those skills to give back, educate, and assist both civilians and veterans. Financial literacy and veterans are her 2 platforms in life and when she can pair one with another, it is both rewarding and humbling for her.
Always looking to the future, Sara is also an advocate for North Ridgeville Citizens for Better Schools and has served with promoting levies and bonds for the district. In addition to this, in her spare time, she can be found teaching both NRHS students and Lorain County veterans classes on Financial Literacy.
Sara is a true leader in her community. In addition to being a wife and mother of two, she served five terms as the chair of the North Ridgeville Chamber of Commerce and still remains a board member today. She has earned two Associate degrees, one in Health Care Management from the Community College of the Air Force as well as an Associate of Arts degree from LCCC.
Sara is also involved in a new project to build a Veterans Memorial in the City of North Ridgeville. She is currently serving as the Vice Chair for the Veterans Memorial in North Ridgeville where they are actively working on raising funds to get the project off the ground and make the dream a reality.
Sara resides in North Ridgeville with her husband Jody, daughter Samantha, and son JD.
Organizational involvement and awards:
VFW Post 9871 Life member
Veterans Memorial in North Ridgeville – Vice Chair
North Ridgeville Chamber of Commerce – Board Member
Air Force Commendation medal
Air Force Achievement medal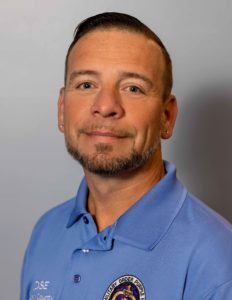 Member, Commissioner
Appointed 2013
Current Term 2019-2023 (2nd Term)
Jose Torres, a lifelong resident of Lorain County, graduated from Southview High school in 1995 and immediately joined the United States Marine Corps as an O331 Machine Gunner. During his time in the Marine Corps, Jose deployed multiple times overseas. It was during one of those deployments with the 1st Battalion 2nd Marines in 2003 at the battle of Nasiriyah, Iraq that Jose was wounded and eventually was retired from the Marine Corps in 2008.
Though no longer in the Marine Corps, Jose still has a strong commitment to his fellow veterans. Which he demonstrates by his leadership in the VFW. Jose is a life member of the VFW and has held several leadership positions to include District 9 Commander from 2017-2018. He also can be found at many veterans events around the county, to include the Annual 10K Ruck Walk March for Suicide Awareness which he founded in 2012 to bring more attention to this issue in Lorain County.
Jose represents the Military Order of the Purple Hearts on the Lorain County Veterans Service Commission, and he resides in Lorain.
Organizational involvement and Awards:
Life Member of the VFW
VFW Leadership positions- District Vice commander, and District commander, as well as the National Aide DeCamp for the National VFW commander
Wreaths Across America
Life Member of the MOPH
Member of American Legion
Member of AMVETS
Polish Legion of American Veterans
Life member of VFW National Home for Children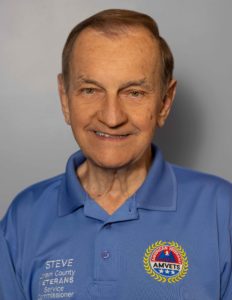 Member, Commissioner
Appointed 2016
Current term 2023-2027 (2nd Term)
Stephen "Steve" Bansek is a lifelong resident of Lorain County and has dedicated a large portion of his life to serving his neighbors in Lorain County. His experience of service began after he graduated from Lorain High school in 1956 and joined the United States Airforce, where he served four years as an aircraft electrical repairman and instructor.
The idea of "service above self" ingrained in Steve during his time in the Air Force has stayed with him his entire life. When Steve came home to Lorain, he began working for Lawson Milk company, where he worked from 1964-1978. He was recognized as having leadership potential and earned a promotion to district sales superintendent. During this time at Lawson's, Steve once again got the urge to serve and decided to run for and then won a seat on the Lorain City council (8th Ward) where he served two terms from 1976-1979. Following his time on Lorain city council, Steve ran and was elected the Clerk for Lorain Municipal Court, a position he held from 1981 till he decided to retire in 2006.
During his "retirement" years, Steve has not lost the will to continue serving his community, whether it is with the Veterans or helping to put on local events for all of the county's citizens. Steve has stayed busy working to improve the lives of all the citizens in Lorain County.
Steve resides in the City of Lorain, where he lives with his wife of 60 years Laurel Young. They have six children, 17 grandchildren, and 16 great-grandchildren.
Organizational involvement and awards:
 Life Member AMVETS Post 47

1992 Lorain veteran of the year

Member Nativity BVM Catholic Church – Former Athletic Director, Usher, Lector; Currently choir and handbell member

Chairman Lorain Memorial Day Parade (2019 Grand Marshal)

President of Lorain international association and trustee and Parade chairperson

Currently Chairperson of Lorain Winterfest – 2015-present

Member of the Knights of Pulaski

Alliance of Poles of America fraternal insurance group (past Ex. Vice President, Treasurer, and Director)

National Treasurer Polish Legion of American Veterans 2016-present